Note: before putting eggs in the machine, let it works for a day to make sure that every part works properly.
Pour water in the water container with special bottle.
Put eggs on the tray same as below picture.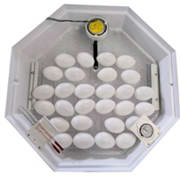 Connect the gearbox to its place.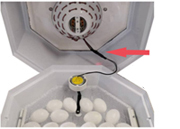 Close the machine door and make sure that air cannot enter.
Turn the machine on and note the following:

• The fan works with high speed.
• The gearbox is warm and shakes.
• If you turn the thermostat to the right side, the green light of the thermostat must be on.
During the 18 days of setter, every 3 days pour water in the machine.
The ideal temperature inside the machine is 37.5 -37.7 degrees and the ideal humidity inside the machine is 55-65%.
In the 7th and 14th nights, do the candling with considering all important notes.

Setting:
- When the machine is started, the red light comes on and the element gets warm.
- When the temperature reaches 37.5°, turn the thermostat to the left side till the red light goes off.
- Wait for one hour till it reaches 37.7°.
- In case, after one hour, the temperature does not reach 37.5°, turn the volume to the right till the thermostat goes on.
- Note that each millimeter to the right, adds 0.5 degree, but it is shown by the thermometer after half an hour.
- When the temperature is 37.5°, fluctuations between 36° to 38° is accepted. Therefore, do not change the setting.